Anna Karenina, by Leo Tolstoy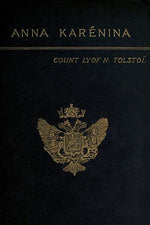 "Anna Karenina" is a novel by the Russian author Leo Tolstoy.
It was first published in book form in 1878.
Many writers consider "Anna Karenina" the greatest work of literature ever. Tolstoy himself called it his first true novel. It was initially released in serial installments from 1873 to 1877 in the periodical "The Russian Messenger".
A complex novel in eight parts, with more than a dozen major characters, it is spread over more than 800 pages (depending on the translation and publisher), typically contained in two volumes. It deals with themes of betrayal, faith, family, marriage, Imperial Russian society, desire, and rural vs. city life.
The novel has been adapted into various media including theatre, opera, film, television, ballet, figure skating, and radio drama. 
It's been said that the plot was inspired by the story of a real woman. Anna Stepanovna Pirogova was the mistress of one of Tolstoy's friends. When she learned her lover had been neglecting her for his children's German governess, she ran away and wandered about the countryside for days.