Pride and Prejudice, by Jane Austen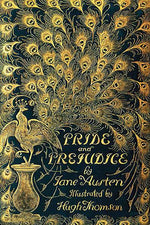 Originally titled First Impressions, Pride and Prejudice was written between October 1796 and August 1797 when Jane Austen was not yet twenty-one, the same age, in fact, as her fictional heroine Elizabeth Bennet. 
After an early rejection by the publisher, who had not even read it, Austen's novel was finally bought by Egerton in 1812 for £110. It was published in late January 1813 in a small edition of approximately 1500 copies and sold for 18 shillings.