Sense and Sensibility, by Jane Austen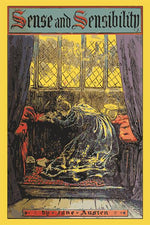 Jane Austen's "Sense and Sensibility" was published anonymously in 1811.
It tells the story of the Dashwood sisters, Elinor (age 19) and Marianne (age 16½) as they come of age. They have an older half-brother, John, and a younger sister, Margaret, 13.
The novel, which sold out its first print run of 750 copies in the middle of 1813, marked a success for its author. It had a second print run later that year.
It was the first Austen title to be republished in England after her death, and the first illustrated Austen produced in Britain.
The novel has been in continuous publication since 1811, and has many times been illustrated, excerpted, abridged, and adapted for stage and film.