The Legend of Sleepy Hollow, by Washington Irving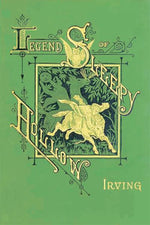 Washington Irving's The Legend of Sleepy Hollow first appeared in 1820. Since then, the tale of Ichabod Crane's terrifying yet hilarious encounter with the Headless Horseman has become so popular that it has passed into American folklore.
It is a gothic story, contained in his collection of 34 essays titled The Sketch Book of Geoffrey Crayon, Gent. The book that has affected childhood vision and imagination across many generations. 
Along with Irving's companion piece "Rip Van Winkle", "The Legend of Sleepy Hollow" is among the earliest examples of American fiction with enduring popularity, especially during Halloween.