The Wonderful Wizard of Oz, by L. Frank Baum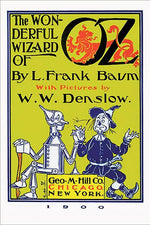 L.Frank Baum's The Wonderful Wizard of Oz was declared "America's greatest and best-loved homegrown fairytale" by the Library of Congress. 
It was originally published in May 1900. Since then it has seen several reprints, most often under the title The Wizard of Oz, which is the title of the popular 1902 Broadway musical adaptation as well as the iconic 1939 live-action film. 
The book is one of the best-known stories in American literature and has been widely translated. Its groundbreaking success and the success of the Broadway musical adapted from the novel led Baum to write thirteen additional Oz books that serve as official sequels to the first story.