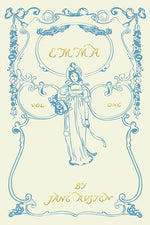 "Emma" is a novel by Jane Austen published in 1815. 
It is set in the fictional country village of Highbury and the surrounding estates, and involves the relationships among people from a small number of families.
As in her other novels, Austen explores the concerns and difficulties of genteel women living in Georgian-Regency England. 
Emma is a comedy of manners, and initiates dialogues about marriage, sex, age, and social status.
Before she began the novel, Austen wrote, "I am going to take a heroine whom no one but myself will much like." 
Written after Austen's move to Chawton, was her last novel to be published during her lifetime.
This novel has been adapted for several films, many television shows, and a long list of stage plays.