Oliver Twist, by Charles Dickens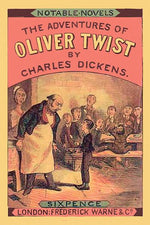 Oliver Twist is a classic book by Charles Dickens.
The author poured his own youthful experience of Victorian London, exposing the cruel treatment of the many orphans in London in the mid-19th century. 
Masterminded by the loathsome Fagin, the underworld crew features some of Dickens' most memorable characters, including the vicious Bill Sikes, gentle Nancy, and the juvenile pickpocket known as the Artful Dodger.
It is Dickens' second novel. It is dark and biting, yet balanced with the main character's innocence and charm. 
Often cited as the first Victorian novel to feature a child protagonist, it was developed as a social commentary and a call for improving the conditions of London's destitute and orphan children. And it was immensely successful in both. 
The famous cry of the heart - "Please, sir, I want some more"- has resounded with generations of readers of all ages.